Jeff's Journal
Redfish, Powdered Sugar Beaches, & New Fishing Rods!
Posted on Thursday, Nov. 22nd, 2016 6:58 PM
Recently, my wife and I had a chance to go to Panama City, Florida on an anniversary vacation with some work mixed in. We stayed at a cute little hotel right on the beach. Panama City Beach is beautiful and I believe that Florida beaches are the best in the world. The sand was like powdered sugar and the water was very warm, even in October. We also happened to be very close to one of the piers and I often walked down it to see what the fisherman had caught for the day. I cooked freshly caught fish every night.
I also had a chance to go fly fishing for Redfish in the Eastern Bay of Panama City, with my guide named steve. I was able to land 2 of my first Redfish. They are a blast to catch and can be fished year round in Florida. I also took the opportunity to test out a new fly rod, I am developing, and it worked wonderfully!
Overall my wife and I enjoyed Panama City Beach so much that we are trying to find a way to move there or at least make it a favorite vacation spot!
I hope to report back very soon on a release date for the new rod line that is in development.
In the mean time FISH ON!
---
Learning To Cast.
Posted on Thursday, Nov. 10th, 2016 4:00 PM
1) 11:00 - 1:00
2) Less Line
3) Slow down and be patient
I have been fortunate to have the opportunity to teach many people how to Fly Fish. I love introducing people of all ages to this wonderful sport. Teaching others the benefits of this sport, as I travel, is also a favorite pastime of mine. If I can't teach someone myself I tell them to find someone who is experienced to learn from because a good fly fisherman can teach the basics of casting in about 5 minutes. Someone who is learning can't see themselves casting, which haveing an instructor a great benefit. The following is 3 of the most important things that I teach when instructing new anglers;
1) THE 11:00 - 1:00 RULE
Most people know about the 10:00 - 2:00 rule.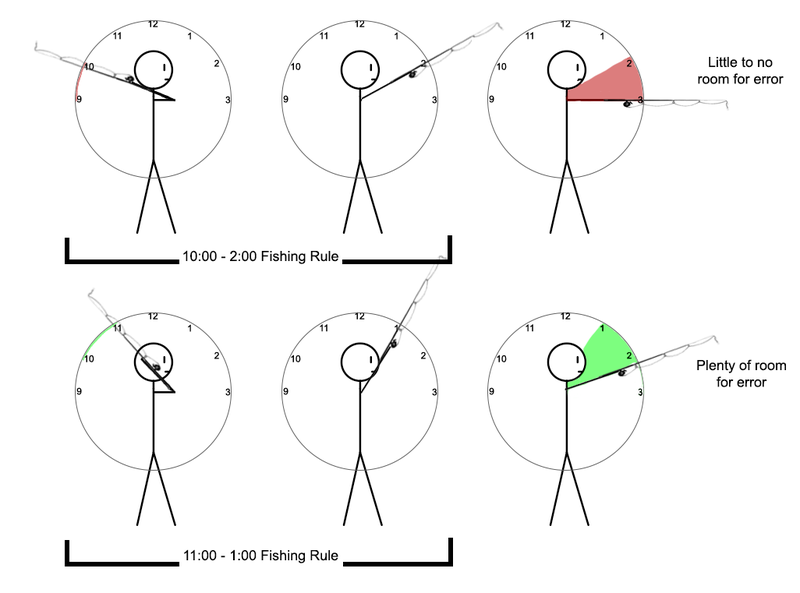 Which is a rule most anglers use when casting for knowing where your arm is supposed to be. See the photos to the right. But a new angler always goes past the imagined 2 o'clock mark, and once they get to 3:00, the cast is ruined. The same happens when they are backcasting. So I always modify the rule for a novice and tell them to use 11:00 and 1:00, which gives them some margin for error.

2) LESS LINE
The next thing I tell them is to work with less line. Everyone wants to cast a mile but it takes time to learn how to cast far and it will frustrate the learner. The money cast is between 20 and 40 feet, but it's OK and necessary to start off practicing short casts with less line and then working your way up to longer casts.

3) SLOW DOWN
And last but not least slow down and be patient with your cast. Wait for the line to lay out behind on the back-cast, so the forward cast can be straight and accurate. I usually tell novices to count to 1 after they back-cast and then they can start their forward cast. This also helps them create a rhythm to their casting.

**Practice Tip**
Practice casting in the driveway by putting a hula hoop on the ground about 15 feet in front of you. Then try to land your fly inside the hula hoop. Once you can successfully land the fly inside the hula hoop multiple times, move the hula hoop further away and repeat.


---
Darby is the Perfect Little Town for Me.
Posted on Thursday, Oct. 13th, 2016 6:00 PM
Darby, Montana is a town of only about 600 people, but I love this little town. It's perfect for my little fly fishing company. There are banks, a grocery store, hardware store, dollar store, restaurants, schools, gas stations, even a hair salon and tattoo parlor. Everything I need is within walking distance. Even the river, which is the most important thing for me and the business. I think the thing that most people love about Darby is the beautiful scenery with all of the mountains, trees, and of course the big blue sky. Overall, darby is perfect and allows the business, as well as myself, to be part of the community. I will always be thankful to belong to this little town.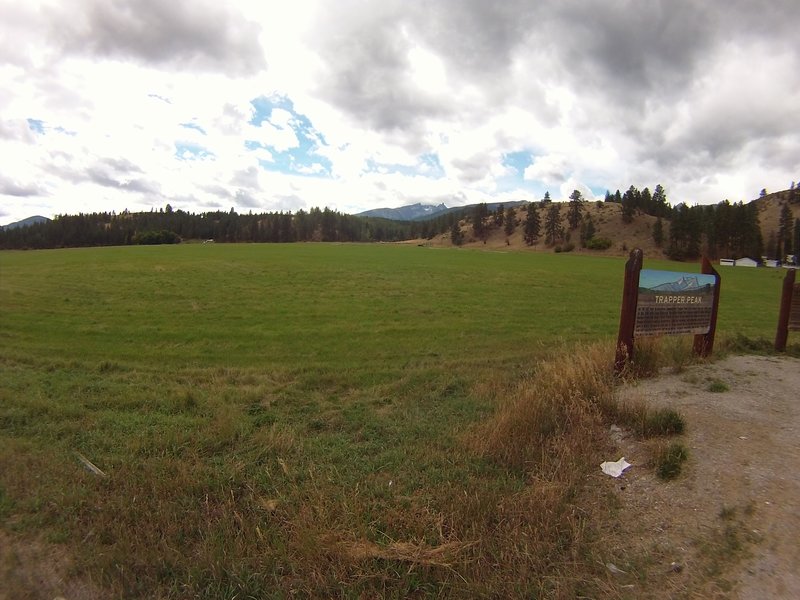 ---
Fall Fishing Part II
Posted on Thursday, Oct. 6th, 2016 4:00 PM
As I have said before, Fall is my favorite time of the year. Up here in the Bitterroot things are starting to cool down, the snow birds are moving south, and the tourists are all home. The river has much less traffic the fish are getting fat on many varieties of food. As the waters cool the fish become more active and will take many different varieties of flies. From dries to emergers, to nymphs and streamers. I've been excited for fall fishing all year!
---
Fall Fishing
Posted on Wednesday, Sept. 1st, 2015 5:30 PM
Fall is my favorite time of the year for fishing in the Bitterroot Valley. The days are cooling the leaves are falling and the fish are hungry.
In the summer months the Bitterroot River is hit hard by out of state anglers looking to fish on world class waters. It's great that almost all non-native fly fisherman practice catch and release—I mean "Catch, Measure Net and Release" fishing.
In the fall when all the Out-of-Staters have gone there are many days that I can fish the river without ever seeing another angler.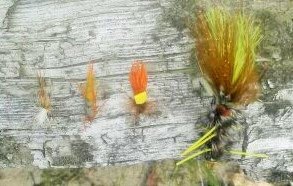 I spend many days walking the Bitterroot in September, October and November. I love the fact that it is very easy to catch fish with many different fly patterns and the fish readily take Dry flies, Nymphs and Streamers. Most days I have success with all three types. I have included in this post some of my favorite Fall Flies.
There is something spiritual to me about being all alone on a cool clear river with the leaves falling and the sounds of the forest all around. Not to mention the excitement that is felt when my rod is almost pulled out of my hand as a big Brown or Rainbow slams my streamer. "FISH ON BABY!"
---
Fishin' The Eastfork
Posted on Monday, April 20, 2015 8:31 AM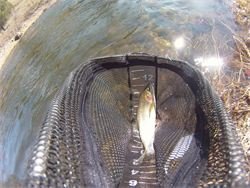 Spring fishing on the EastFork of the Bitterroot River brought me this little CutBow.
Date: 4-18-15.
A great little fish caught this day.
---
New Measure Nets!
Posted on Wednesday, March 11, 2015 12:22 PM

The Large Titanium-Wood Net.
Measures up to 28 inches.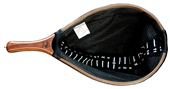 The Medium Wood Net.
Measures up to 24 inches.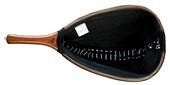 The Large Wood Net. Measures up to 28 inches.
---
Teach The Nest Generation To Fly Fish
Posted on Monday, November 03, 2014 1:46 PM
It is never to early to pass on the joy of Fly Fishing. This Summer I was teaching my niece Gwen how to cast a fly rod. She loved it.
Please spend some time with the next generation teaching them the skills of Fly Fishing. This sport can last a lifetime and bring much learning and happiness to all involved. Fish On!!
-Jeff Abel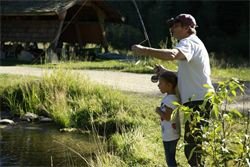 ---